Recent News:
Congratulations to Sha (Lisa) Li who defended her thesis on 07/06/2015 entitled
"Engineering Assymetric Peptide Membranes".
Read about Shadow Biospheres, New Facts of Life and Emory's strategic initiatives.
Congratulations to Chenrui Chen who defended her thesis on 04/09/2015 entitled
"Metastable Phases Direct Polymer Emergence and Evolution in Dynamic Chemical Networks".

Dave and Jay are authors of a report based on a Workshop on "Alternative Chemistries of Life: Empirical Approaches." The report and workshop were supported by the NSF and NASA. pdf
Listen to Jay's interview with Ari Daniel aired on PRI's "Living on Earth"!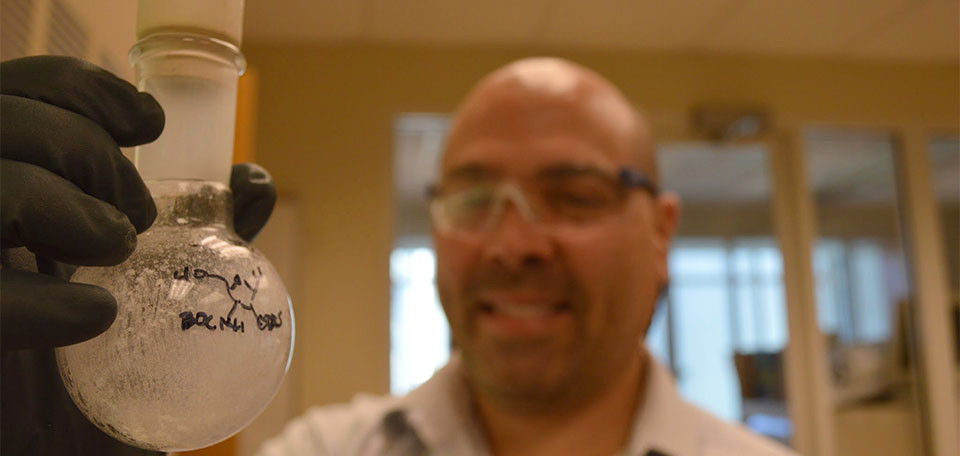 Check out live video of the new Chemistry building construction.
Read the Emory eScienceCommons article entitled "Chemists fine-tune ideas on how life evolved" discussing the December issue of the Accounts of Chemical Research guest edited by Cindy Burrows, Dave, Jay and Anil and cover art by Terri Dilling.
Congratulations to Savannah Johnson who defended her thesis on 11/09/2012 entitled
"Amyloid Conformational Diversity Accessed by Truncations of a Native Protein Fold".

Read about Xandra's "Love Affair with Science"!
The lab has gone Hollywood! Listen to Dave discuss how stories and mythology help to stimulate the human imagination and push us to greater scientific discoveries all within the context of Ridley Scott's film Prometheus (2012).
"Connecting the Dots" at Spruill Gallery - Gallery Talk and Workshop, Saturday Apr 21 12-2 PM

Mini-Reception from 12-1pm. An informal reception with artists Terri Dilling and Leisa Rich, and time for viewing the exhibit.1pm Tour the exhibit with the artists, and learn more about the science behind it from David.

Update: Jay getting inspiration from Terri and Leisa's Interstellar Interactions exhibit. "This art piece is an entire room filled with moveable elements aimed at showing viewers that chemical compounds are constantly built up and broken down and are always evolving" (From http://spruillgallery.blogspot.com/)
Read the latest Emory eScienceCommons article on the NASA and NSF "Alternative Chemistries of Life: Empirical Approaches" workshop featuring quotes from Dave and Jay!
Chemists boldly go in search of 'little green molecules'
Congratulations to Yue Liu who defended her thesis on 04/10/2012 entitled
"Comparing and Contrasting Two Plant Pathogens provide A Unique Window into the Differences in the Innate Immune Responses Between Dicots and Monocots".
Yue is the 50th Lynn Lab Ph.D!
Read, listen and watch Steve Everrt's "First Life" imagining the chemical origins of life with Martha Grover and Dave.
Congratulations to James Simmons who defended his thesis on 09/16/2011 entitled
"Conformational Exchange: A Common Mechanism for Amyloid Assembly".
Congratulations to Yi-Han who defended her thesis on 06/24/2011 entitled
"Mediating long-range motions in a multi-domain protein: the VirA histidine autokinase".
Congratulations to Seth Childers who has been chosen as a 2011 Jane Coffin Childs Fund Fellow! Go Cardinal!
Congratulations to Dave for receiving the 2011 Emory Scholar/Teacher Award.
The Board of Higher Education of the United Methodist Church presents an annual award to a member of the Emory faculty who has excelled as a classroom teacher, shown unusual concern for students, and made significant contributions to the scholarly life of the university. Nominations are solicited from the members of the university community early in the calendar year.
Seth Childers' doctoral research has been selected to represent to be part of "Emory discoveries". His work and others from across the University has been chosen to be highlighted for Commencement 2011.
Watch highlights of "Group Intelligence" - A Mass mp3 Experience held at Emory and Woodruf Park. Presented by Out of Hand Theater in collaboration with Center for Chemical Evolution and The Lunatics
Congratulations to Dave for being elected as a AAAS fellow. Read about this year's Emory AAAS Fellows in the Emory Report.
Congratulations to Dr. Seth Childers who defended his thesis on 8/13/2010 entitled
"Amyloid: Merging the Properties of Membranes and Enzymes".
Read the latest Emory eScienceCommons article on Lakshmi's and Robert's plans to teach evolution.
Teaching Evolution Enters a New Era
Listen to Dave's
interview on Craig Venter and co-workers' synthetic cell and read his comments in Emory eScienceCommons.
Thursday May 20 7 PM
Cocktails in the Garden are informal discussions with some of the region's scientific leaders. Topics to vary monthly. Grab a drink and your thinking cap for some lively social education.

May 20
"On the Origins of Evolution" with Dr. David Lynn, Chair of the Chemistry Department at Emory University.
Thursday May 13 10 AM, Saturday, May 15 10 AM & 7 PM and Sunday May 16 5 PM
An instrument maker and a dancer, husband-and-wife team Ela Lamblin and Leah Mann create breathtaking performances that combine art, music, and dance. Returning after its sold-out performances in 2008, Seattle's Lelavision presents a show combining its best material with new works developed in partnership with scientists from Emory University (our David Lynn!). Physical Music showcases Lelavision's stunning and singular musical sculptures and its astonishing physicality. This program is recommended for all ages. Running time is 1 hour. Please note, the Thursday, May 13, 10 am program is intended for a high school audience and will feature a more in-depth exploration of the science behind this art-science collaboration. The Saturday, May 15, 10 am program also includes a S'peek, or special behind-the-scenes sneak peek, following the conclusion of the performance. This 45-minute session will show audiences some of the details of the musical sculptures used in the program. The S'peek is included in the ticket price for this show.
Comment on our recent findings in Emory eScienceCommons
Peptides may hold 'missing link' to life
Congratulations to Dr. Rong Ni who defended her thesis on 4/9/2010 titled
"Regulation and Characterization of Amyloid Architecture: Insights into Amyloid Cytotoxicity and Molecular Assembly Mechanism".
Friday, Jan 22 7:00p at Northwest Film Forum, Seattle, WA
Science will take center stage in "The Accumulation of Change," a world premiere performance by Lelavision Physical Music. Blending choreography, original video, DaVinci-esque musical sculptures and lots of audience participation, Lelavision founders Leah Mann and Ela Lambin will explore the origins of life, aided by the observations of our David Lynn.
Happy Holiday from the Lynn Lab!
Emory's e-commons interviews (12/18/2009) several Emory Scientists for their views on key advances during the last decade and what may be in store during the next decade. David Lynn states "We're taking principles central to evolution and probing them to use in different ways" and "It's a great time to be a scientist - the sky is no longer the limit." Read more of David Lynn's thoughts at e-commons.
David Lynn made his stage premiere at Accumulation of Change on 10/16/2009 at Eyedrum! The Accumulation of change is a new art science experiment between Seattle's Lelavision Physical Music (Ela Lamblin and Leah Mann) and our very own David Lynn. The performance combined Lelavision's hybrid form of art (kinetic music sculpture, music, and dance) and excerpts of David Lynn's discoveries in chemical origins of life, self-assembly and molecular evolution.
Erin Schuler and Chenrui Chen recently completed Emory's NMR Short Course. So if you're feeling INADEQUATE and need help with a COSY just ask Erin and Chenrui. (06/12/2009)
Congratulations to Savannah Adams for being invited to the ACS summer school on Green Chemistry and Sustainable Energy in Golden, CO.
Congratulations to Savannah Adams for being awarded 2009 ThinkSwiss Research Scholarship.
Hear David Lynn at the Evolution Revolution Symposium Panel called "Can We Engineer New Life?". Video from David Lynn.
Read about Savannah Adams early days as an Undergraduate at Piedmont College from the Piedmont College Journal Fall 2008 edition
Thinh Bui received the Best Presentation Award at the Emory's Fall Undergraduate Research Symposium for his presentation titled ""Amyloid-Directed Catalysis – Opportunities for Peptides in the Origins of Life"
Congratulations to Seth Childers for being named a ARCS Foundation (Achievement Rewards for College Scientists) 2008 fellow.
Congratulations to Dr. Melissa Bobeck for being named an ORDER scholar.
Congratulations to Dr. Drew Palmer who defended his thesis titled
"Semagenesis: Translating the Molecular Dialogues of Host-Parasite Interactions".
To learn more and see a video about Drew's Experience and Discoveries click here.
Read our about our recent findings in Emory Report
Emory-led Study Links Metals to Alzheimer's and Other Neurodegenerative Diseases
On-line Presentations:
Life of the Mind Series: "Origins of Evolution", David Lynn, Emory, Nov. 7th, 2007
(requires RealPalyer - click here for free download)